One Beam of Light is a global photography project that seeks to inspire and engage people interested in lighting, by focussing on a collection of photographs, all of which start with a single source of light, stripped to its bare minimum.
Over 360 entries were submitted which were scrutinised by our Curation Panel. The Shortlist ran to over 100 images, which the Panel then curated to showcase the philosophy behind the One Beam of Light project. The final selection of 31 images was reproduced in large format for the London Exhibition (at The ICA, London, 16–20 April 2013). You can see them here…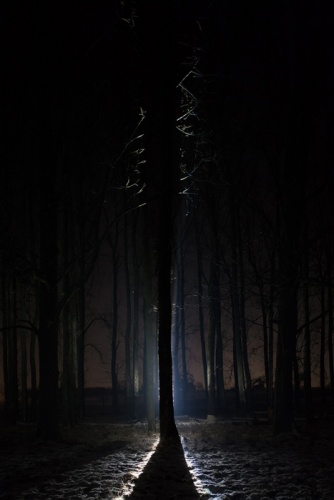 Corona by Stefan Lotze / Gorillalighting (Germany)
A sharp-shaped beam behind the trunk, slightly beyond the edge of the tree. Inspired by the mystical atmosphere of a winter night.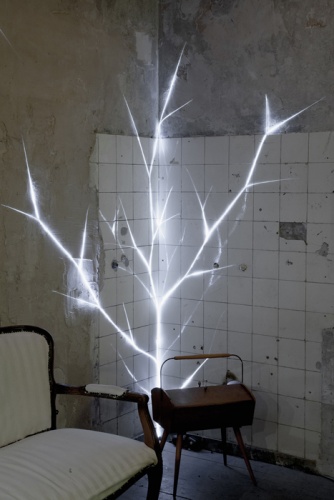 Growing Light – Taking Space by Stefan Lotze / Gorillalighting (UK)
Fine trails of light growing into the dark, still in the shadow of perception... but the lines begin to capture the room and create their own space". One beam of light captured in fibre, reflected over and over again.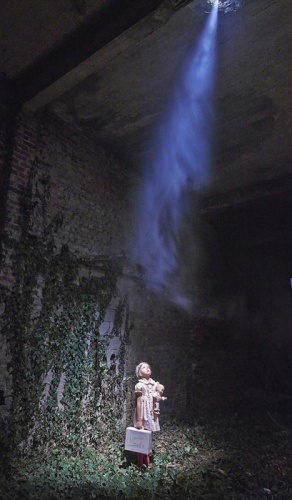 Lightfall by Céline Deceuninck / Electric & Arts (Belgium)
On a life's journey we come across many intriguing scenarios. Light often plays an important role. Our setting is an old abandoned flax factory where the tension of hard labor still lives in the ruins. Moonlight finds its way through the openings of what used to be brick chimneys.
Model: Alexandra Bienfet, Photo: Marc Wallican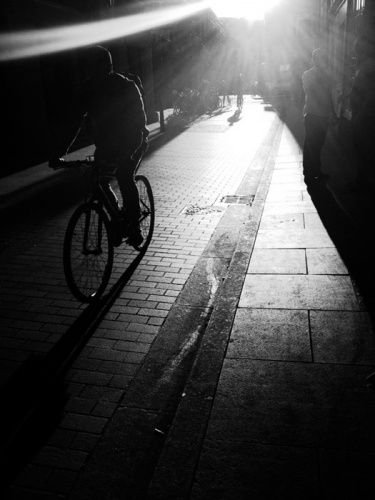 Rivington Street by Despina Tselegkaridou (UK)
The sun in London can create beautiful effects. The angle that the photo is taken allows for the beam of light to reveal itself, perfectly shaped – almost like a sculpture.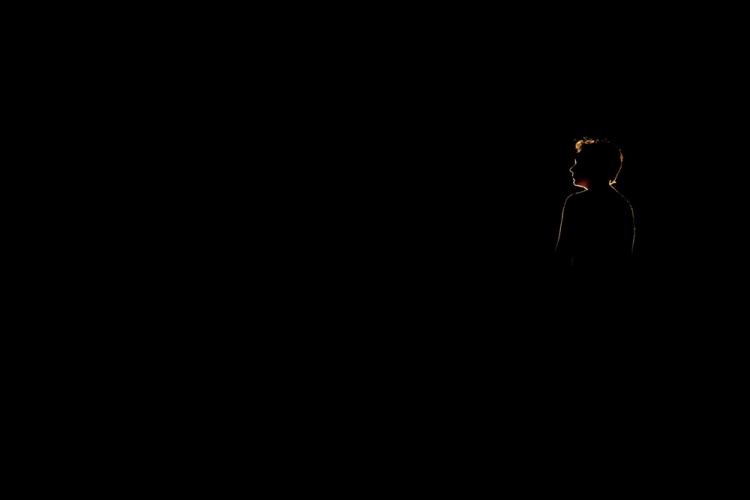 Life Drawing by Rachel Ferriman, Christopher Knowlton, Cis O'Boyle (UK)
We shuttered the beam and dimmed the light to capture human form in silhouette. We wanted the image to be delicate and sketch like.
Equipment: A 750w profile (theatre lantern) and volunteer.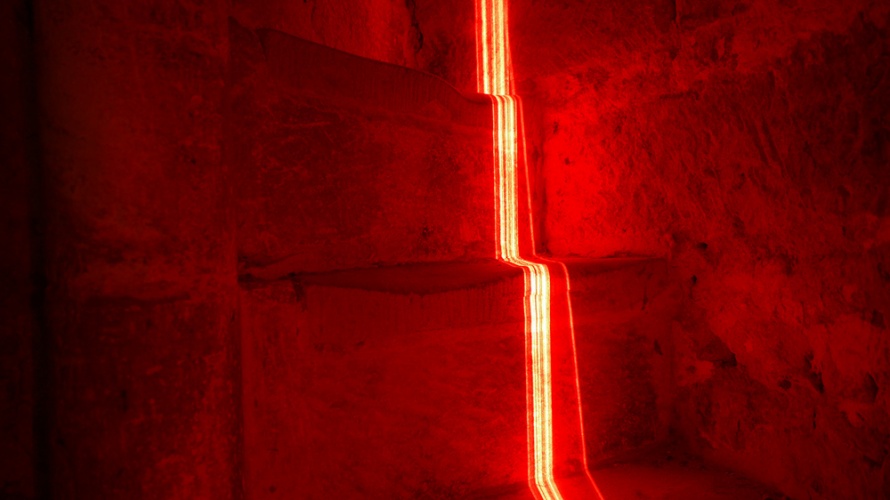 Liquid Light by Adam Busby / dpa lighting consultants (UK)
This image of a single beam of light directed onto stone steps was inspired by the manner in which light follows form. The long exposure of the camera shot exaggerates the brightness and movement of the light over the angled surface; creating the illusion of a flowing liquid.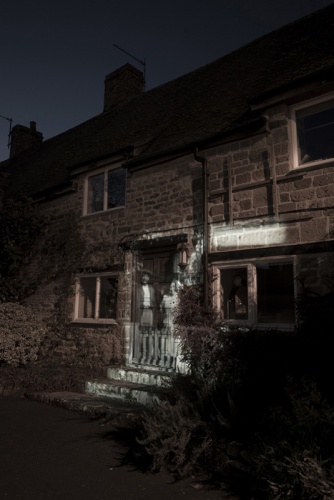 Layers of History by Ashley Rogers, Sotirios Stamatopoulos, Matt Waugh / dpa lighting consultants (UK)
The re-creation of the past memory of an old village post office projected upon the present day location using one source of light. The outcome is a ghostly illusion of the previous occupants as they revisit their former home.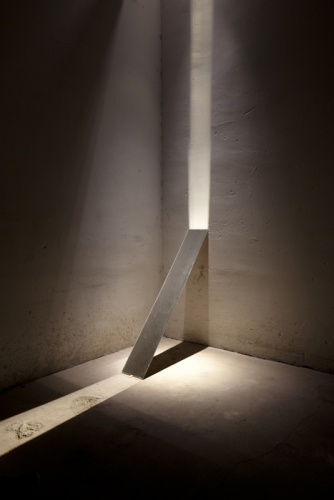 Reflection 05 by Irene Bas, Alvaro Valdecantos / Lightmade (Spain)
This image is part of a series of reflections about space-time; a research on the perception of the different points of view and the thicknesses of a light beam. It plays with light's physical properties using mirrors to describe the linear and cyclical concept of time. In that context, time becomes geometry and volume in a continuous light movement.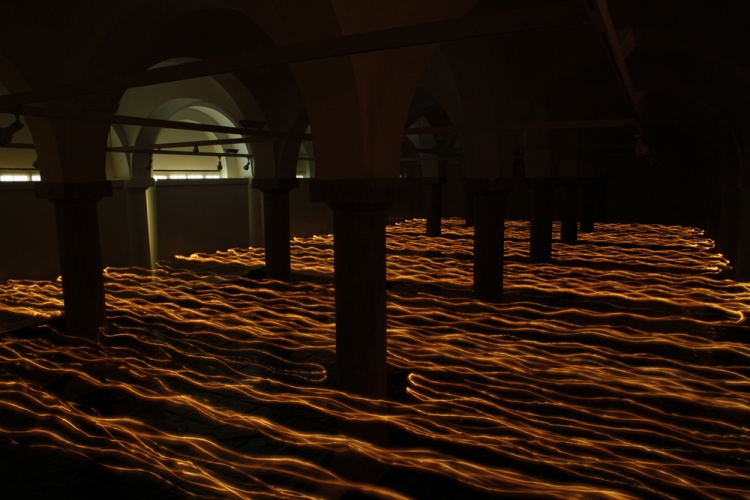 Horizontals into La Pescaderia Vieja Old Market by Jesus Marin Clavijo (Spain)
This image depicts light in motion. With the shutter in B position and the beam of light writing over the camera sensor, it is a work where the principal concept is occupying the total space.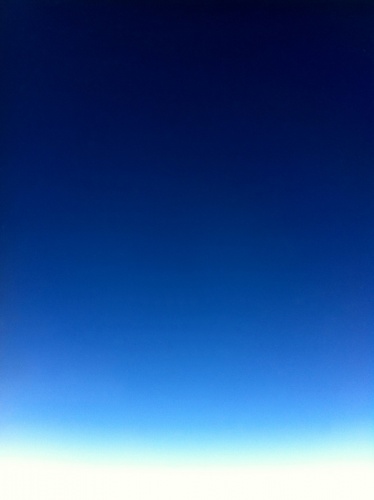 Collateral Scatter by Nathan Thompson / The Flaming Beacon (Australia)
I found a (well, the) really really really bright light and arranged it to shine sideways through a few thousand cubic kilometres of varying density air. The resultant graduated blue scatter is pretty beautiful, as suspected. (Picture is retouched to spot out some blemishes on the pressure vessel opening.)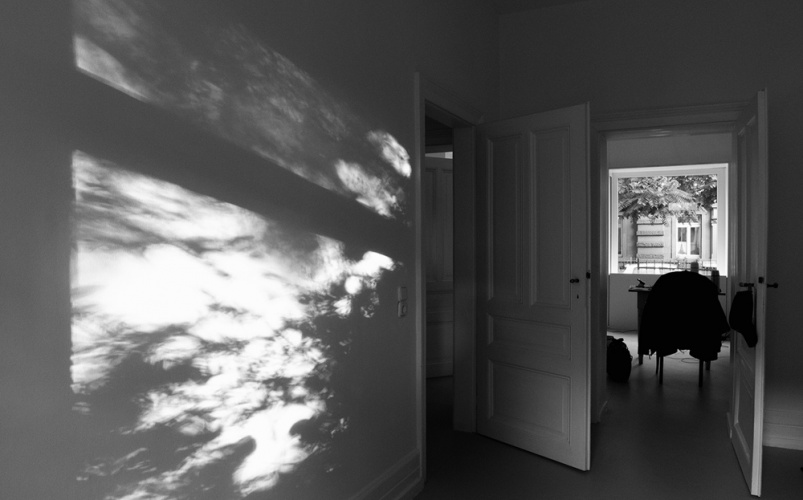 Sun Spot Lenaustrasse by Herbert Cybulska / Cybulska + Partner (Germany)
There is one spot light that can illuminate my new office in Frankfurt – only in the afternoon. The Gobo is made by nature. The Glass in my window helps a lot. We call this spot the "Sun". Shot with a LEICA-D-Lux 5.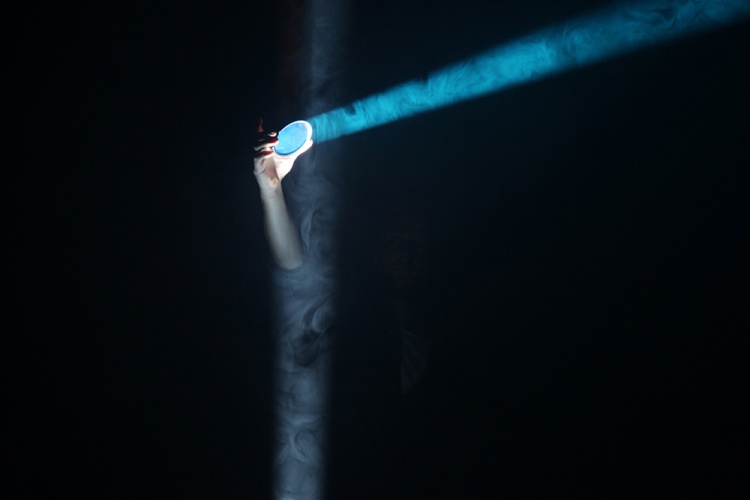 Deflection by Christopher Bauder / WHITEvoid Interactive Art & Design (Germany)
Haze turns light into a material that can be shaped and formed. Still intangible but almost physical the light changes from illuminator to actor.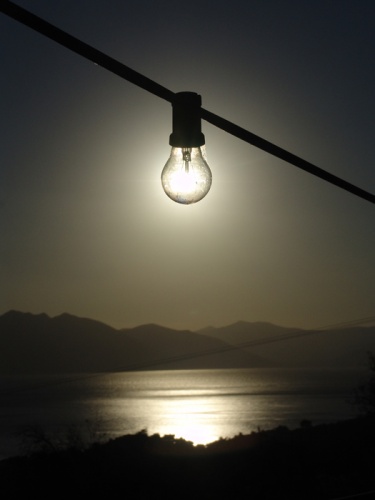 Eternal Light by Spyros Perdiou (Greece)
I liked the idea of a "fake" light source and also the fact that the lamp was already there, in a natural environment, for anyone willing to guide his attention to it. Above all, it's a tribute to the excellence of natural light and the ultimate light source: our sun.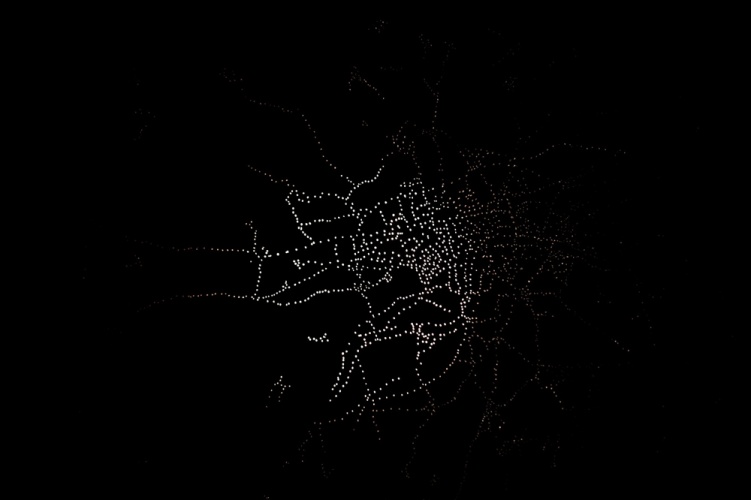 From Above by Rachel Ferriman, Christopher Knowlton, Cis O'Boyle (UK)
Tiny pin-pricks punctured through cardboard and back-lit to describe London's luminous environment seen from the sky at night. We wanted to find a way to represent the whole city's light output using a single source of light.
Equipment: 500W dimmed floodlight – theatre lantern, matt black cardboard.

Reflection for Dreams 2 by Christina Augustesen (Denmark)
One beam of light is reflected and spread in different directions creating layers of light and shadows. The beam of light is the foundation for the creation of shapes and spaces for living and in dreams.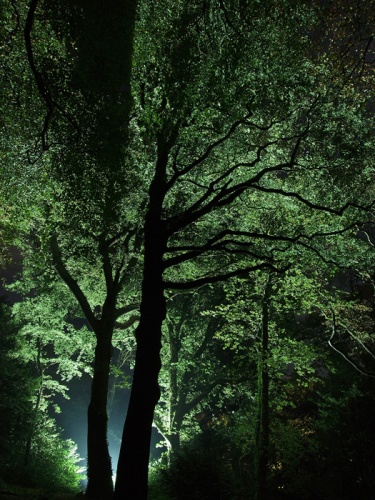 Chiaroscuro Oak by Walter Holt / Installations of Light (UK)
Oak Trees at Mount Stewart National Trust Garden lit by a ground mounted iGuzzini Lingotto containing a 400W cool white metal halide lamp. Photographed with a tripod mounted Olympus EP-1 set 15 seconds at f5.6, ISO 200.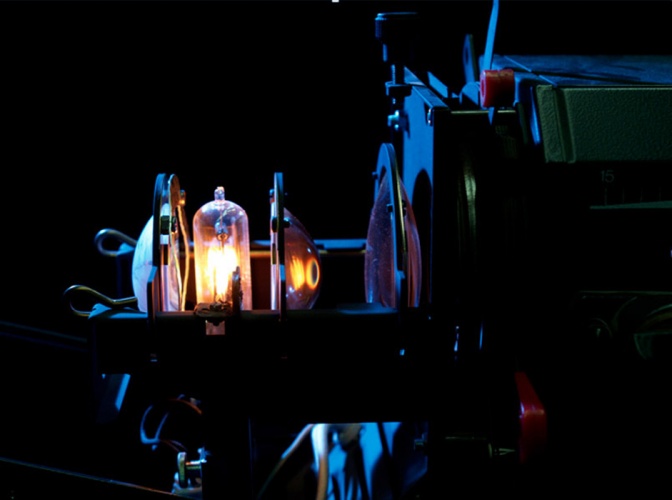 Theatre SPOT Niethammer ENIZOOM by Herbert Cybulska / Cybulska + Partner (Germany)
The Enizoom Profile Spotlight was THE tool for creative lighting in theatre for 20 years. I opened it, dimmed the lamp and used another with a gel to light the inner space. We also need tools this good in the digital age. Shot with Olympus E3 / Zuiko15-54mm.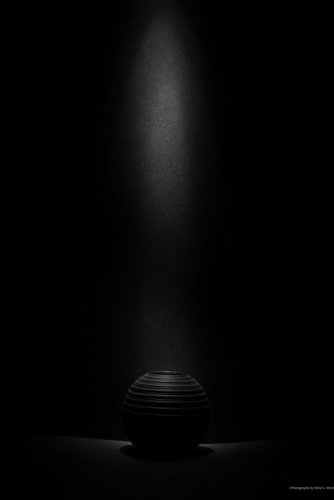 LED Beam by Steve Ward (UK)
The image you see began life as a mix of LED torch, cardboard, dark card, spherical candle holder and a wooden table assembled in a garage. After some failed initial attempts I angled the torch beam towards the sphere whilst the torch remained against the dark card and a successful image was achieved.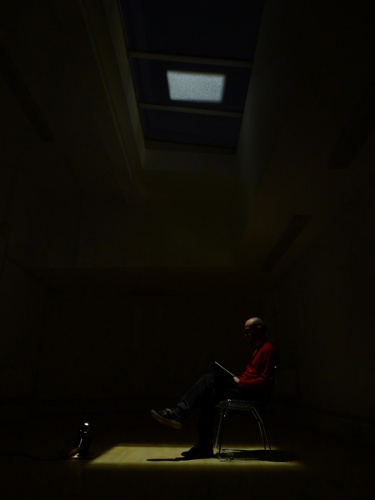 Bright Skylight at Night by Alexander Bittiner / Lighting Design International (UK)
Bright Skylight at night is an amalgamation of ideas and inspirations drawn from the function of the luminaire and my fascination with the interrelationship between windows and interior spaces. The window frame acts as a framing projector and the light is indirectly reflected from the glass to light the space below.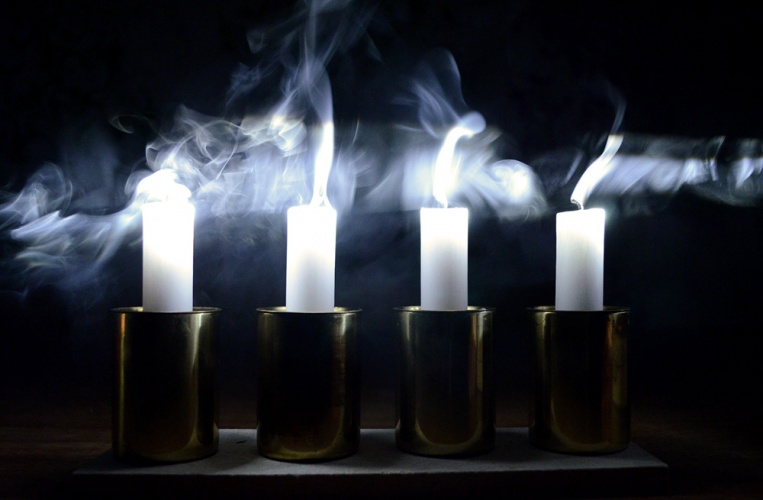 Smoke by Joost Witsenburg (Netherlands)
Since light is only visible when reflected, my main challenge in this contest was to choose the right medium. For this image four sources of light, sadly, had to be extinguished in order to show one beam of light. (see animated process)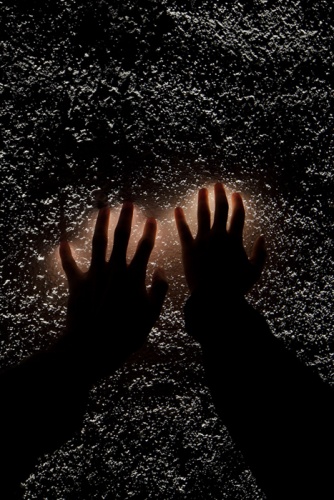 Lightmade 2 by Irene Bas, Alvaro Valdecantos / Lightmade (Spain)
This project involves a wall as part of a staircase where a path with light and texture can be followed. The wall becomes a natural touchscreen where our hands reflect the emission of light creating interactive experiences between light, architecture and people.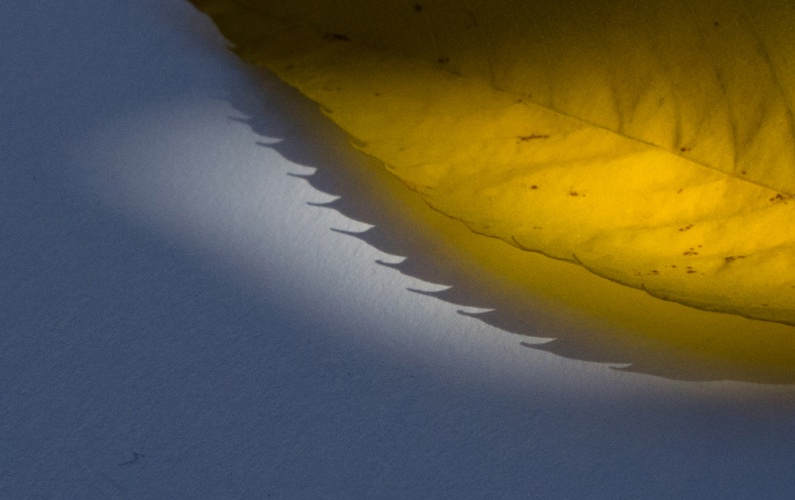 How few? by Glenn Shrum / Flux Studio (USA)
How few direct rays of light comprise one beam of light? Too little, as with a camera obscura and the beam edge is blurred from reflected light. My submission is a study of this question.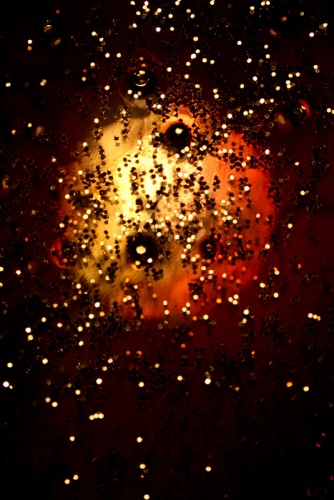 Sopdet by Francis Milloy (USA)
These images are the result of an exploration of the basic relative and reflective nature of visible light. The elements used are a single source of light, a little space and some high contrast reflective materials.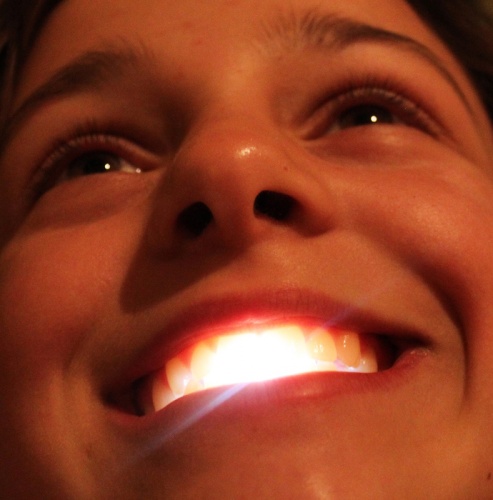 The Big Beam! by Mark Major / Speirs & Major (UK)
Definition: Beam v.intr. To radiate light; shine. To smile expansively. My daughter's smile was the inspiration. It 'radiates'! I got her to place a small battery operated LED in her mouth such that her teeth diffused the light. By adjusting the source we managed to emit one beam of light.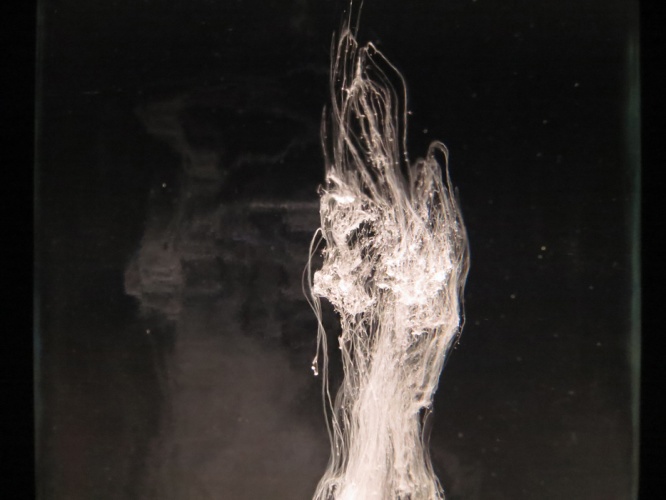 Lightscape 2 by Nic Newton / Studio of Cinematic Architecture (UK)
The images are created in collaboration with the artist Nic Newton. The project aims to create fluid and unfamiliar landscapes using a camera, a beam of light, water and paint.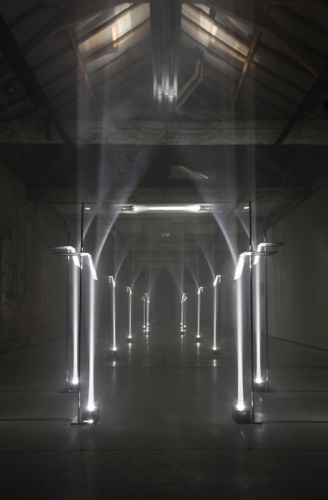 Arcades by Conny Freyer, Sebastien Noel, Eva Rucki / Troika (UK)
'Arcades' is an installation that inscribes one architectural space within another; an arcade made of light. It is given form by 14 pillars of light that are shaped by fresnel lenses refracting the rays that travel through their focal points creating a spatial suspension of disbelief.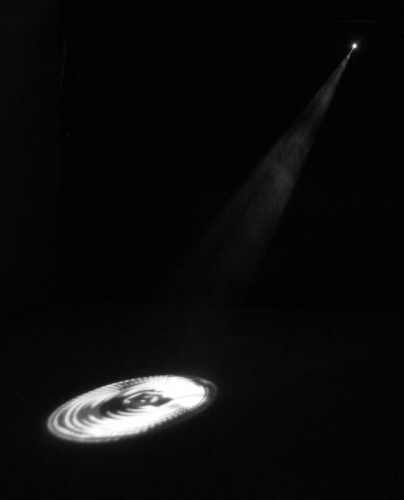 Exposed by Katherine Lindsay and Amy Ruffles (USA)
A personal exploration of camera obscura techniques led to the discovery of exposure of the inner workings of a bare lamp. One beam of light projected through a pin hole reveals what cannot usually be seen by the naked eye, defying the light which obscures it.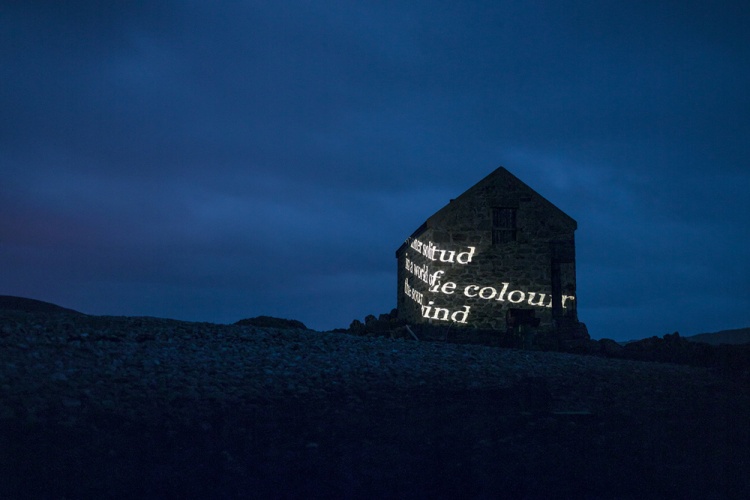 Winter Solitude by Nayan Kulkarni / NK Projects (UK)
My favorite location in Shetland, Nesbister Bod is perched on the edge of the Atlantic. The dark sky and the remote beauty of the location inspired me to take Matsuo Basho's slightly altered haiku into a force 8 wind and rain.
Equipment: Jalarka, JAL-Maxi-W on battery, 160mm f2.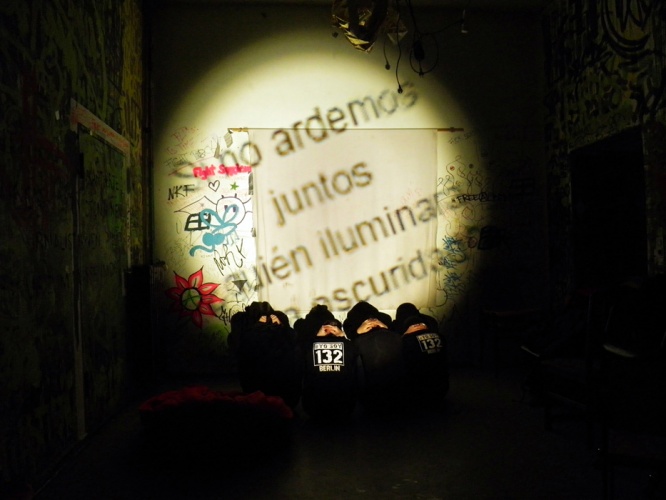 A Beam of Light is a Messenger by Andrés Sánchez (Germany)
Light communicates. "If we do not burn in flames, who will light up this darkness?" is the slogan of #YoSoy132, an international student movement centered on the democratization of Mexico. A Concord Beacon Muse gobo projector, their slogan printed onto acetate gobo and four members of the group were required.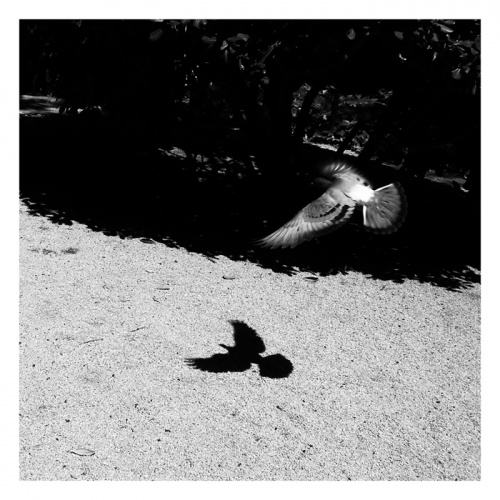 Yin Yang by Paolo Portaluri / HPPH (Spain)
Shadow and light are seemingly dualities of the same phenomenon. In the darkness there is always some light, and vice versa. In a moment, the illuminated bird will join its own shadow. The two manifestations give rise to each other and transform into each other in turn, in a dynamic equilibrium.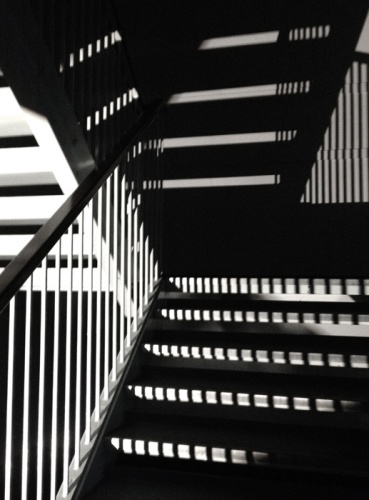 Cool beams by Katie Hanchard-Goodwin / University of Glamorgan (UK)
'Cool Beams' was shot in colour in the stairwell of University of Glamorgan. The effect was achieved using the cool white Concord Beacon Muse projector ('framing' version) which allowed me to achieve the precise angles necessary for the composition. The resultant shadow play forms the basis of my image. Inspired by the work of Escher, I like the idea of simplicity and order in a disordered way.

All of the Shortlist images can be seen in the printed Newspaper, available as a free hand-out at the Institute of Contemporary Art from 16 — 20 April. The publication guides visitors around the exhibition as well as giving readers an insight into the people who created each image and their inspiration.
Thank you to everyone who took part!
One Beam of Light is an original Light Collective idea realised in collaboration with the premium architectural luminaire brand, Concord.